Our Campuses
We believe that offering students a fun, safe, comfortable, and welcoming school environment is one of the most important factors in the learning process. In keeping with this philosophy, we set out to create a school that looks and feels like a school, but with specialized educational, behavioral, and social supports.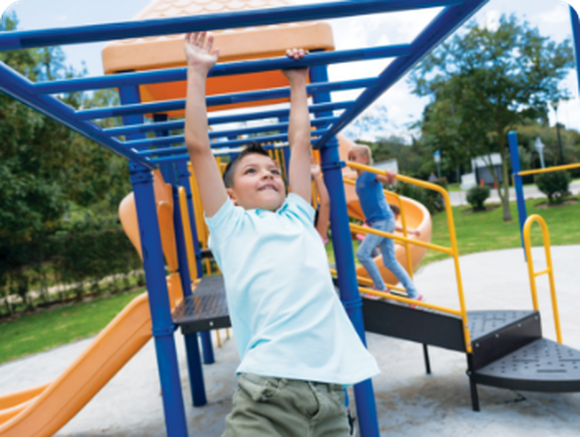 Take a Virtual Tour
Our schools feature amenities that include large classrooms, sensory rooms, student fitness areas, outdoor playgrounds, gymnasiums, cafeterias and a mix of both traditional textbook curriculum and cutting-edge technology such as in classroom computer instruction, iPads, student chromebooks and interactive boards in every class. Click on a site below for more information.
A MyPath Company
MyPath is the glue that connects companies so clients know we can support them across different stages of their life. For over 30 years, MyPath, the parent company overseeing nine separate service divisions, has made a difference in the lives of individuals who face a broad range of challenging disabilities and disorders.
The advent of The Richardson School came from the same vision shared by all of MyPath's Family of Companies—to be the provider of choice for people with disabilities—and to provide innovative services and settings to meet individual needs. The Richardson School was developed in response to local school districts seeking an alternative and a therapeutic day school option, within the local community, to effectively educate and treat students who previously struggled in more traditional school environments. The Richardson School is committed to this vision, and to the success of the students it serves.

Frequently Asked Questions
Do you have any affiliations with local school districts or churches?
No. The Richardson School operates as private school, and is recognized by the Wisconsin Department of Public Instruction (DPI). Although TRS locations are often in buildings owned by a local school district or owned by a local religious institution, we only lease space from these organizations. TRS believes in providing as close to a natural setting as possible, which has made the locations we choose ideal for the supports we offer.
Is The Richardson School a member of any organizations?
TRS is approved and recognized by: NAPSEC (National Association of Private Special Education Centers). We are recognized as a private school by the Wisconsin Department of Public Instruction (DPI) and approved by the Illinois State Board of Education as a private school. We are members of the Council for Exceptional Children, the Autism Society of Southeastern Wisconsin, and the Wisconsin Association of School Personnel Administrators
Additionally, TRS has participated in local awareness events such as the Autism Gala, WalkNow for Autism Speaks, and Autism Society of Wisconsin conferences.
What is the student-staff ratio?
Our classroom model is 8-10 students per classroom with minimally 1 licensed teacher and at least 1 licensed Special Education Program Aide. Safety is always our first concern, and our classrooms are supported primarily based on this need. We also have Instructional Aide Supervisors, Special Education Supervisors, Float Aides, and additional on-site Administrators who provide support and assistance for students during crisis moments, ensure overall building safety, and work with the students and staff to develop effective student intervention plans.